REDDI WALL
Insulating Concrete Forms (ICFs) are an evolutionary method of construction which replaces conventional wood framing with stay-in-place polystyrene forms filled with reinforced concrete to create the structural walls of your building. Compared with wood frame, ICF walls have advantages in energy efficiency, interior comfort, sound attenuation, design flexibility, strength, durability, disaster resistance, pest resistance, price stability, and ease of construction. No wonder there has been such rapid growth of ICF building in North America over the past five years.
*Reddi-Wall Advantages    *Reddi-Wall FAQ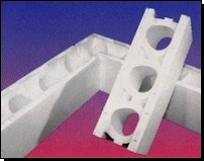 Click to see Reddi-Wall block profile
COMFORT FOAM®
Combining a superior insulation R-value with near-zero air permeability, closed-cell, spray-applied polyurethane foam increases energy efficiency and occupant comfort and improves indoor air quality.
*Comfort Foam Advantages  *Comfort Foam FAQ